Who is this for?


INTERMEDIATE
If you have some experiences with figure drawing and painting, and want to improve more and learn specific steps to create more complex compositions, this is for you.
ADVANCED
If you've been painting figurative works for a while but are struggling to get to the next level by introducing more intricate background elements, this is for you.
Tell your stories with colour and light...
When you've been painting for a while, you'd quickly notice that just taking a photo on the street with people won't just magically make a great reference to paint from. Designing your composition in a way that it tells a specific story can be very difficult if you don't have the right knowledge or tools.
In this course, you will learn everything you'd need to know about making a dynamic multi-figure painting in an urban scene. It will also teach you how you can create strong references in Photoshop that you can use to make your paintings more impactful and organized.
You will be guided through the process step by step on how to start a drawing stage, underpainting stage, then finally finishing the final layer.
This is an extensive process heavy course that packs a ton of value to more experienced artists who want to bring their work to the next level. The course content has been developed and improved throughout years of making mistakes, revisions, and teaching over a thousand students.
You will get to learn the most important concepts and tools to make your first dynamic figurative composition.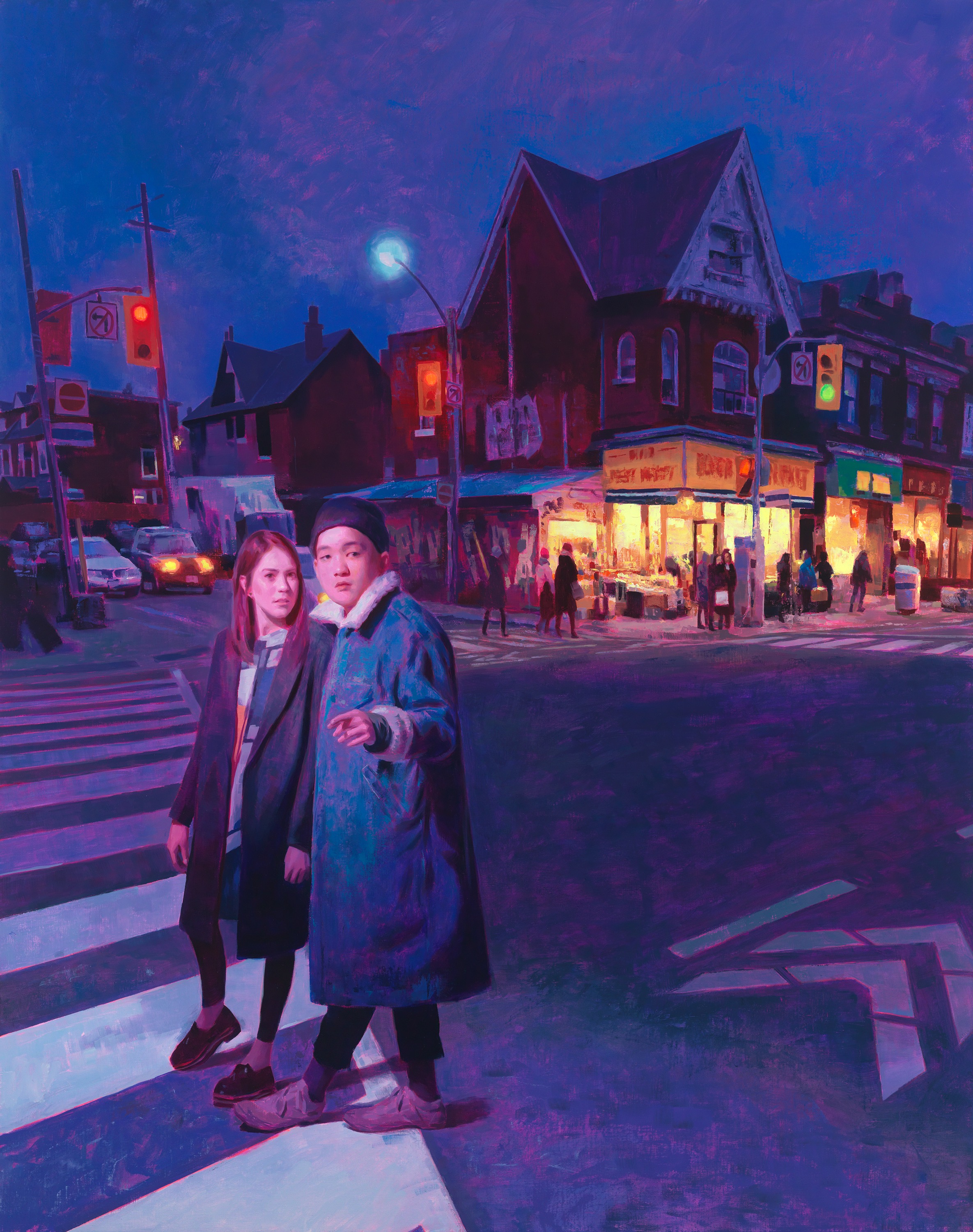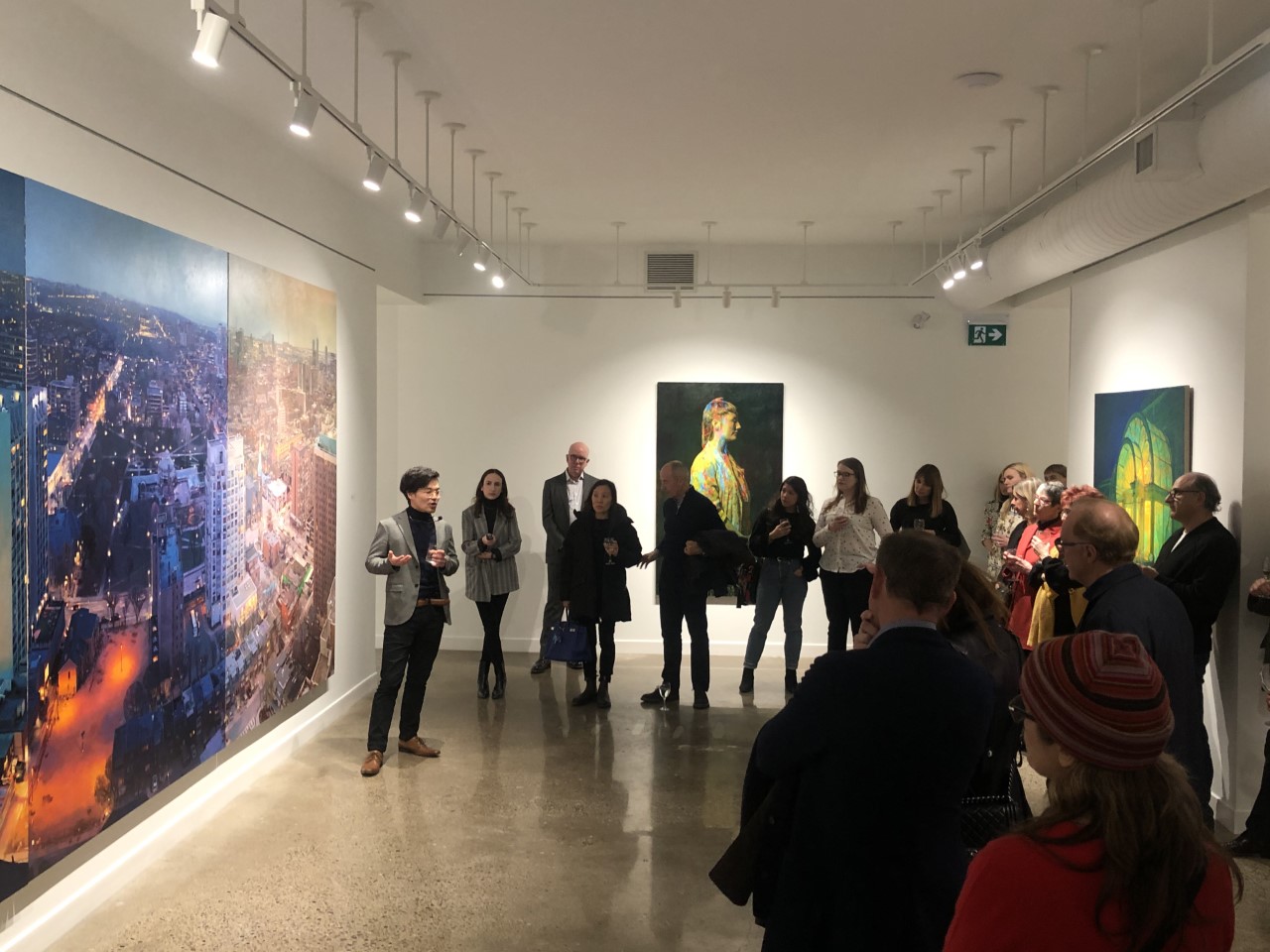 WHO AM I
KEITA MORIMOTO
---
My name is Keita and I'm a 30-year-old Japanese Canadian artist living in Toronto. I moved from Japan to Canada in 2006. Before and after graduating from OCAD University in 2012, I have been exhibiting my work in New York, Denver, Los Angeles, Tokyo, Indiana, Berlin, Portland, San Francisco, Miami, Montréal, Peterborough as well as Toronto.
I've mounted six solo exhibitions including one museum solo exhibition at the Museum of Contemporary Canadian Art as well as being a finalist in the 2016 RBC Painting Competition. I've also participated in charity auctions including Art with Heart to support HIV care and Artists Help Japan for tsunami relief. I'm currently represented by Nicholas Metivier Gallery in Toronto.
Ever since I graduated from school, I've been developing and improving my teaching methods that have helped thousands of students privately in my Toronto studio as well as through online mentoring.
WHAT'S INSIDE THE COURSE
How to compose a strong reference for painting 
Step-by-step construction of finished paintings
Developing your unique style and voice
How to organize your palette 
Learning to think and paint like historical painters
Techniques like - Grid Transfer, Tonal Underpainting, Direct Painting (Alla Prima), and many other techniques.
How to be more expressive your colours
How to create volume and form in portraiture
How to make more confident and organized with your brush work
All of these mediums are accepted: oil, acrylic, gouache as well as digital painting tools. (Opaque mediums are preferred) The instructor's demos will be done in acrylic and oil.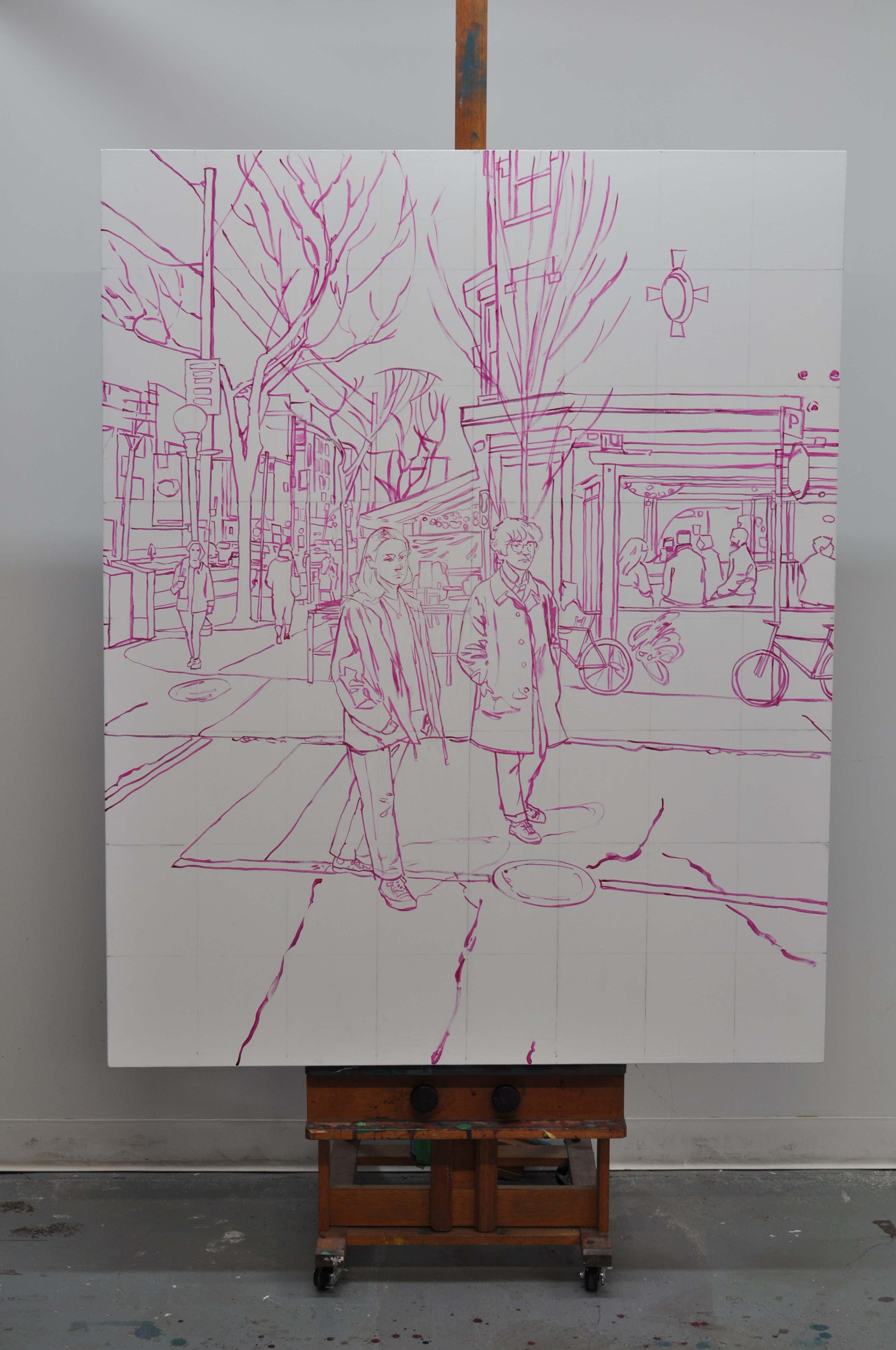 FUNDAMENTALS & DRAWING
Come up with a strong reference in Photoshop
Make a simple value study
Draw with accuracy and confidence
How to translate onto a large surface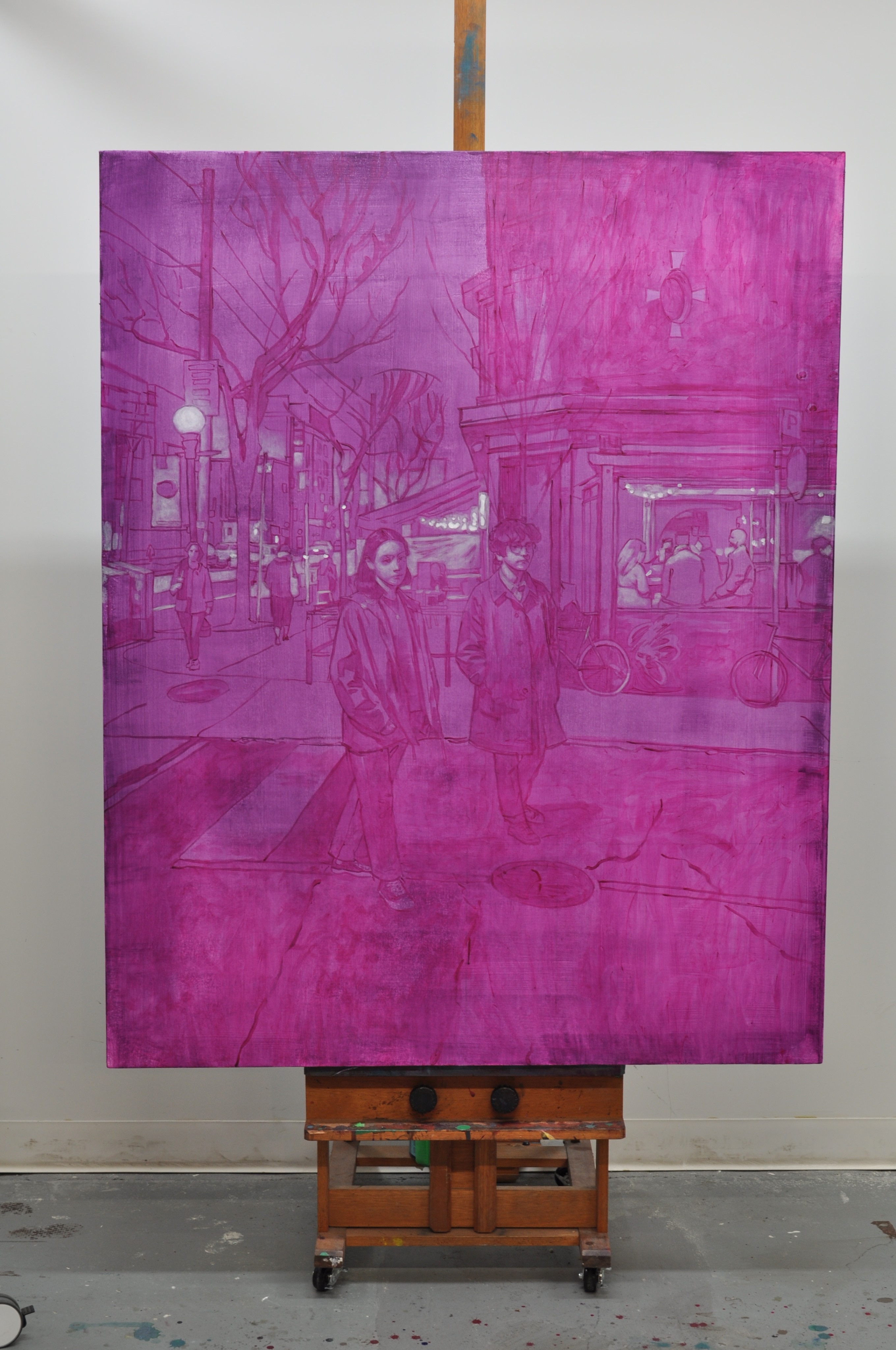 MASTER YOUR UNDERPAINTING
Build a strong underpainting in the most efficient way
Learn techniques of underpainting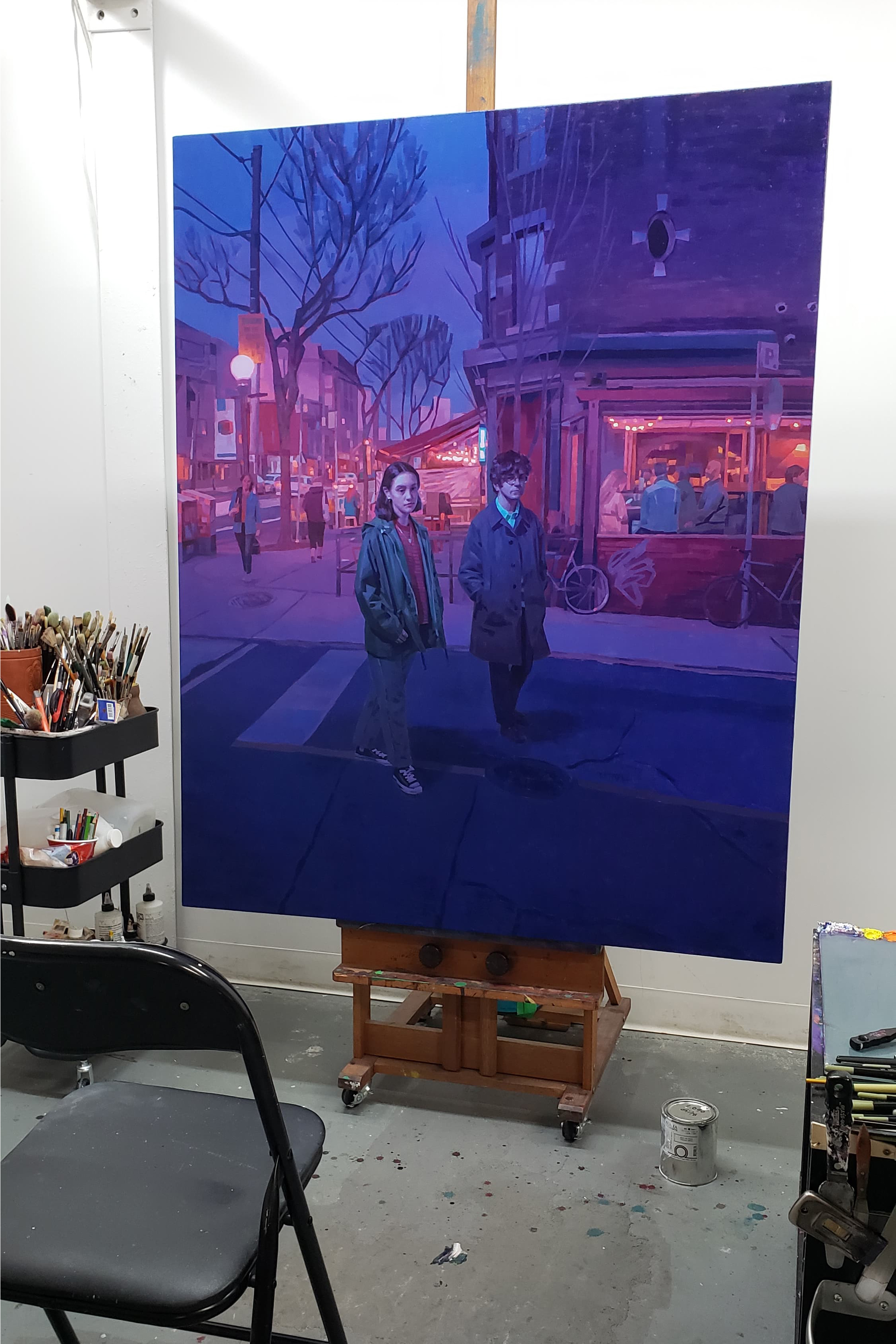 MASTER YOUR RENDERING
Finish your painting with an opaque layer in oil
Learn how to model and render forms
Learn how to finish a large scale painting without getting lost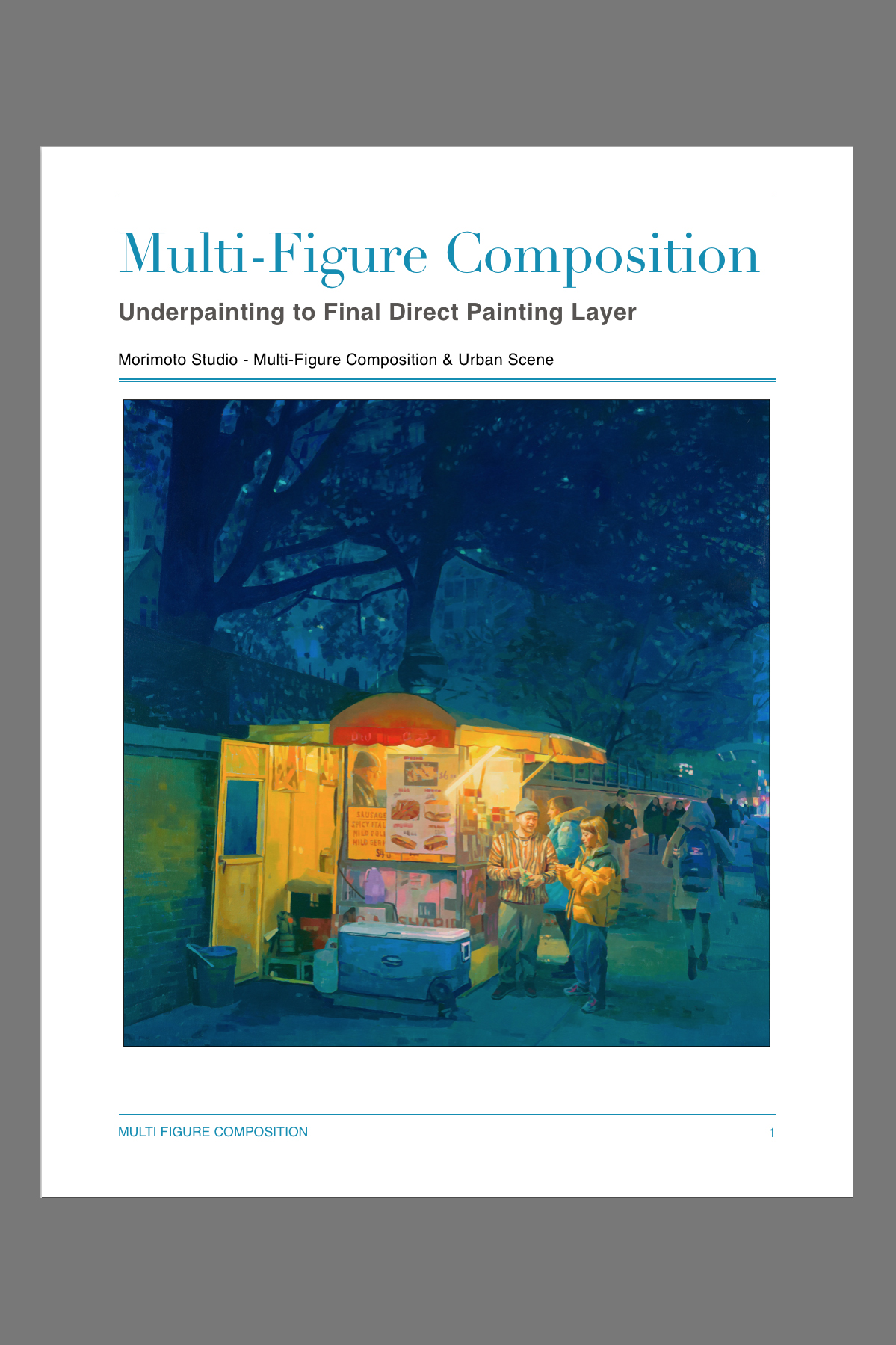 PDF COURSE GUIDES
"Multi-Figure Composition - Comprehensive Step by Step Process"
"History of Figures - How to look at multi-figure paintings from a historical lens"
"Mastering Colour in Your Painting (Comprehensive Colour Theory Guidebook)"
"Portrait Drawing Technique - Drawing with Accuracy"
"Easy Steps to Understand and Paint Form"
"Simple Value Formula"
"Colour Guide - Properties of Colour"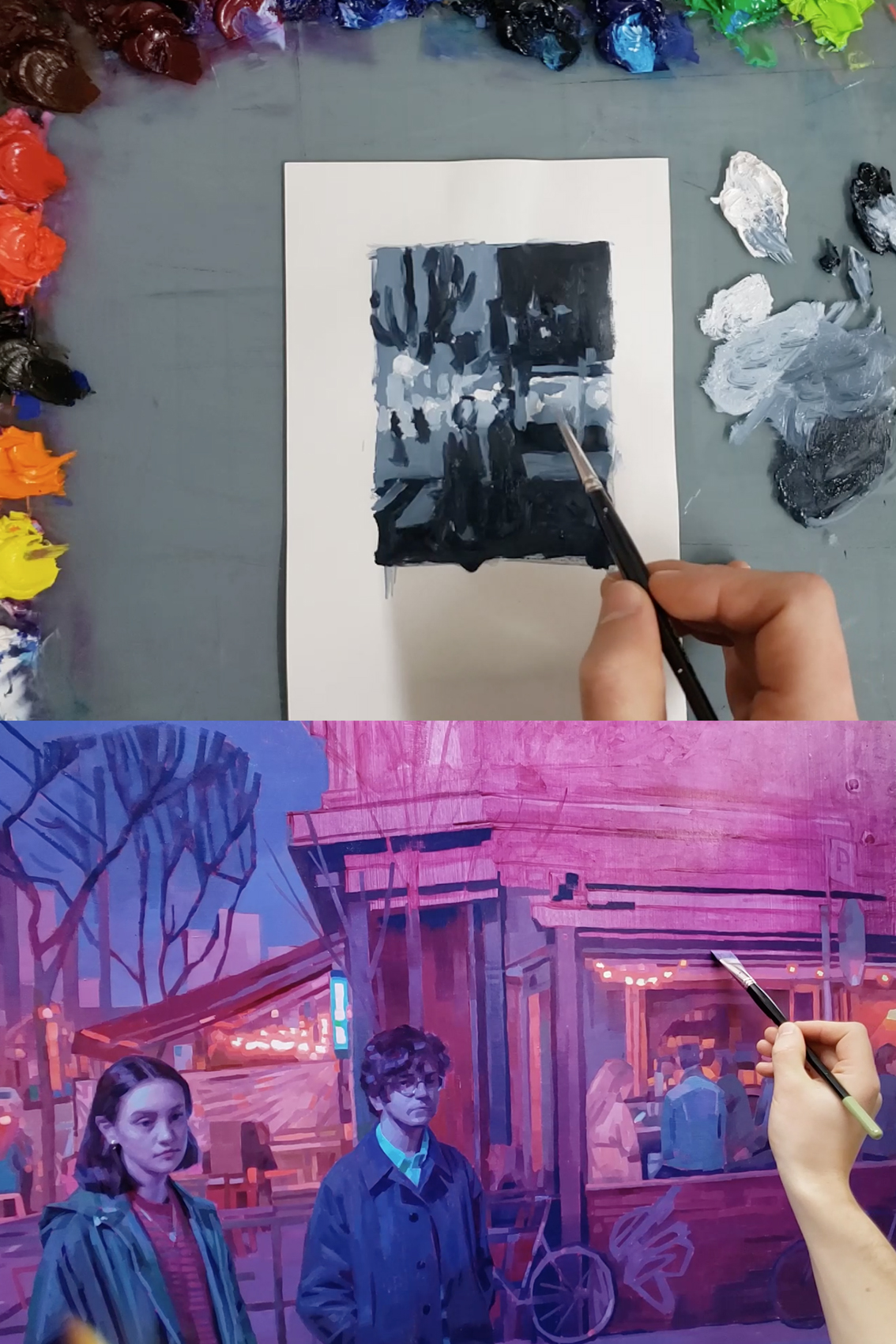 OVER 30 VIDEO LESSONS
Underpainting and Direct Painting Techniques
Strong Reference-making
Grid Transfer Drawing Technique
Expressing with Shapes and Colour
Value Composition Strategy
Many more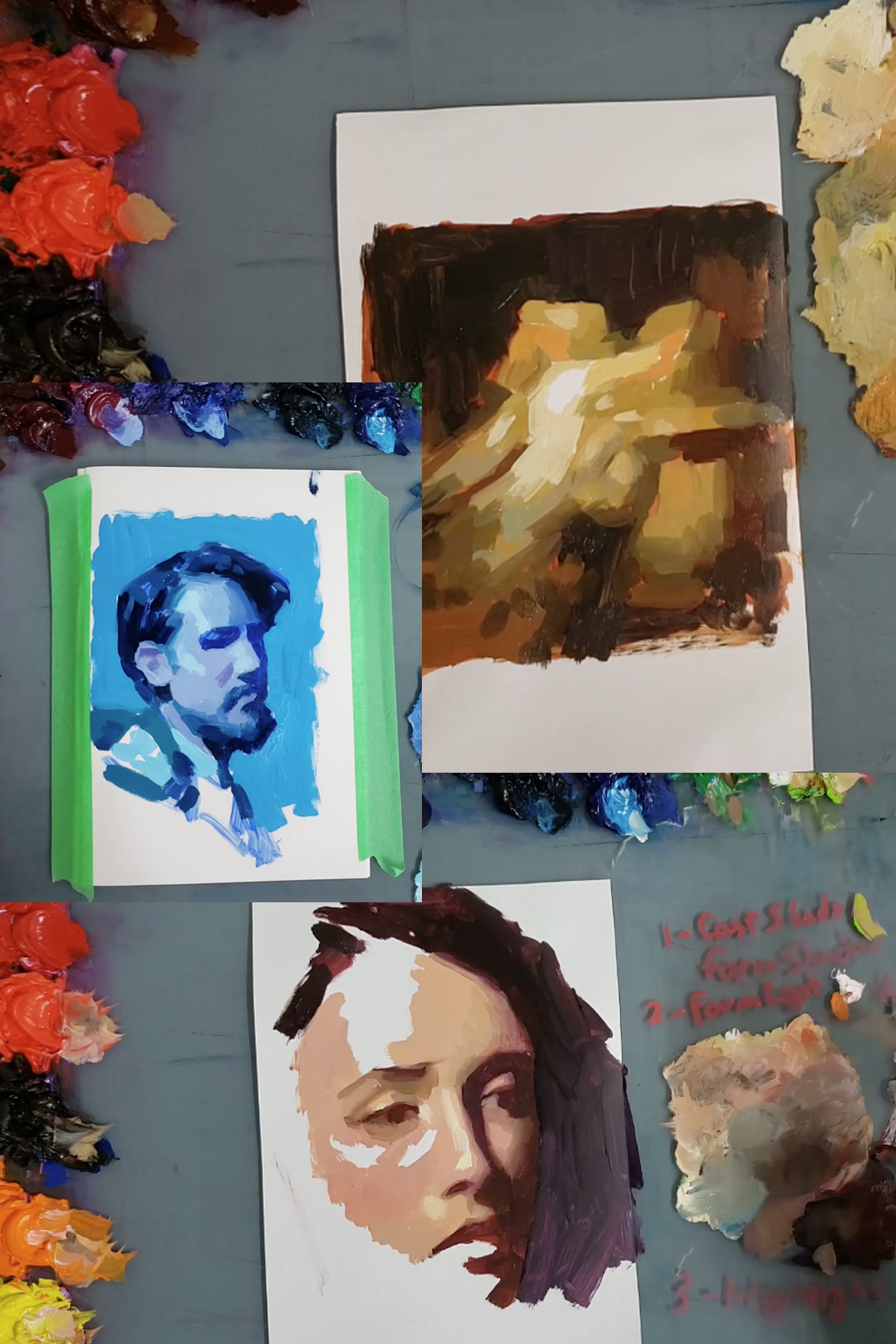 BONUS VIDEO LESSONS
Learn how to create volume in portrait, confident and efficient mark-making, and how to effectively use expressive colour schemes, etc...
Will this work for me?
See what other Morimoto Studio past students are saying...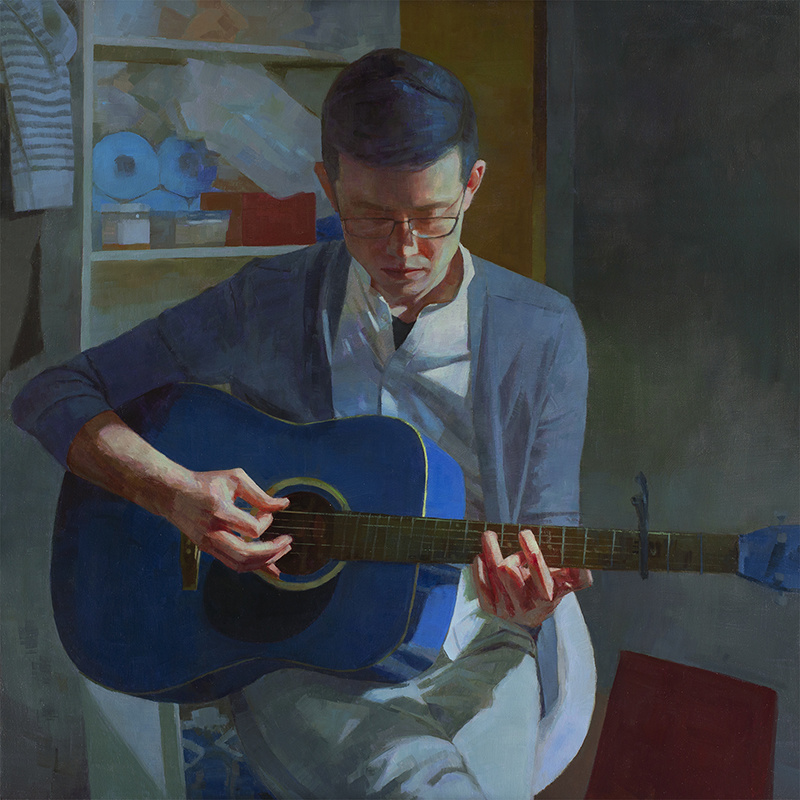 "Keita broke down classical painting into logical, easy to understand procedures and principles with his expertise and knowledge. Painting started to make more sense, and I was starting to see what made a painting successful instead of "paint and hope for the best." Through Keita's guidance and teaching, I discovered new ways of understanding painting from idea to technique, and slowly finding my own sensitivities about painting.
Briefly after my class with Keita ended, I was invited to a group show some friends were putting together. I put three pieces in the show, including the final attempt at the yellow roses. I'd never exhibited before and had no expectations for the show. I thought I'd get to show some recent work, make a friend or two and if I got lucky I might sell one of them. But to my great bewilderment, I sold out at the show and "Mini Roses in Yellow" was the first sale of opening night."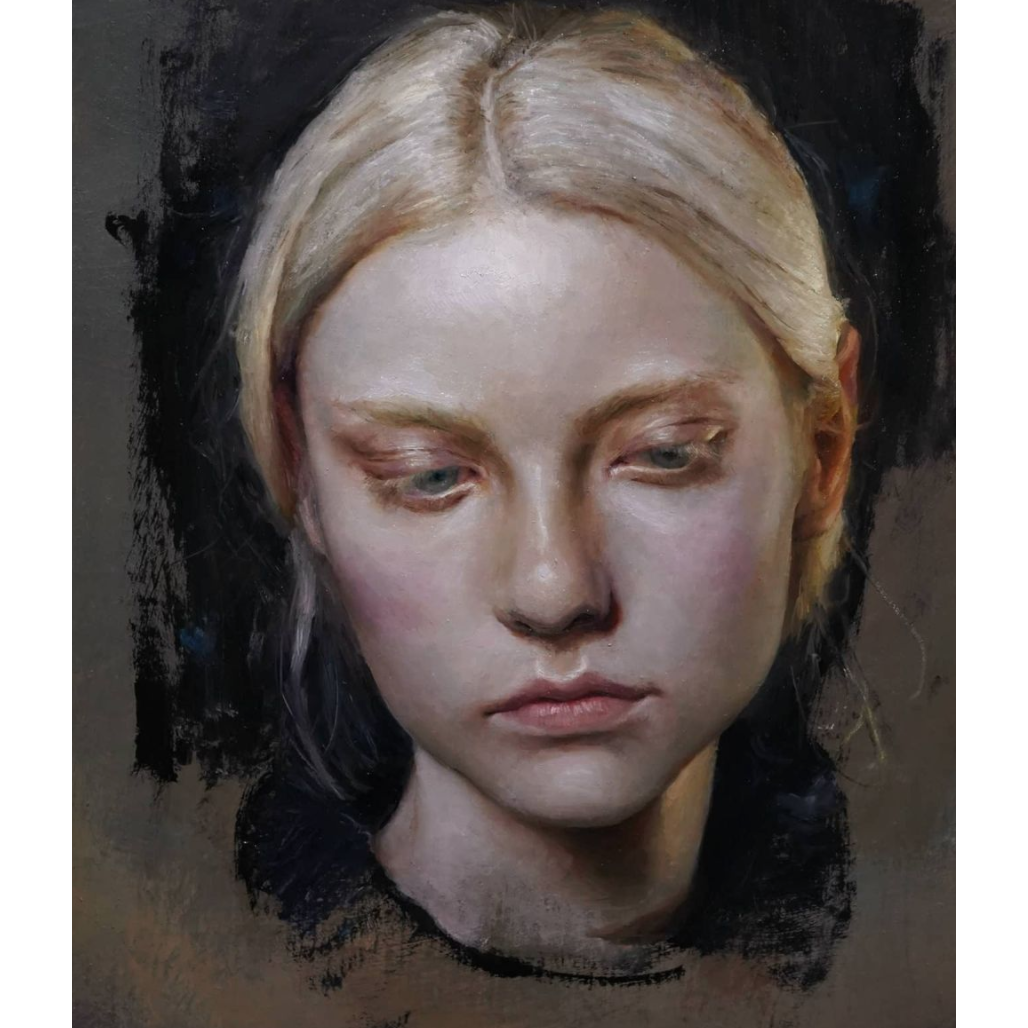 "I always had a hard time learning how to paint in an efficient way, there were too many things I didn't know, and I lacked the system to constructively criticize and improve my work. Frustratingly, I could spend 12 hours painting just one eye. An artist friend of mine recommended Keita's class to me, and later on I enrolled in his courses.
Keita simplified a lot of difficult and "mythical" process of oil painting. It made everything way easier to understand and control. He was generous to share his inspirations and materials for us to improve our ability. It gave me a huge boost in confidence and skill, and I was able to teach myself from there and build on what I've learned. He also taught me how to be a teacher by being a great teacher himself."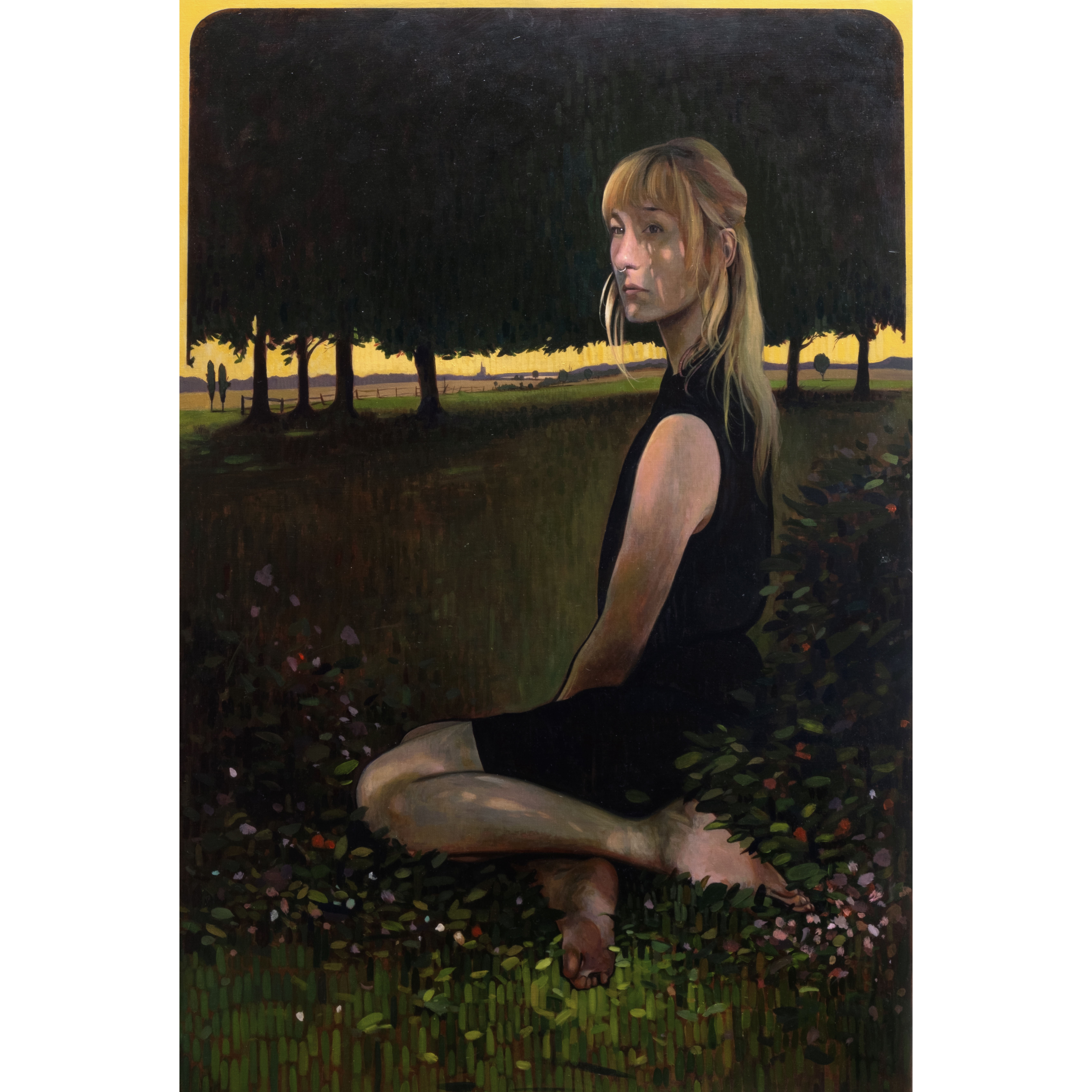 Quinn Henderson
"I had been making art for the better part of my early 20's having no real understanding of how to carry myself professionally as an artist. But I knew that I wasn't going to figure it all out on my own. I had always rejected the idea of putting myself into debt to go to school, and was on the lookout for some mentor. Studying with Keita has been exactly what I always envisioned my education should look like. He provided me with unbiased opinions and genuinely was just interested in helping me grow and forge my own path. I cannot emphasize enough how valuable his education has been for me and my future as a painter, and how comfortable I've felt coming to him with all of my insecurities. I would strongly recommend learning from him in whatever capacity you can afford."
Frequently Asked Questions
When does the course start and finish?
The course starts now and never ends! It is a completely self-paced online course - you decide when you start and when you finish.
How long do I have access to the course?
How does lifetime access sound? After enrolling, you have unlimited access to this course for as long as you like - across any and all devices you own.
More questions?
Just contact at [email protected] for any inquiry.
Enroll now and you'll instantly receive:


‣ 33 high-quality video lessons, broken up into specific topic focused modules
‣ 4 bonus video recordings
from our expressive portrait and landscape workshop
‣ 7 downloadable guides to help you put what you learned into action.
‣ Unlimited life-time access to the course. View it wherever and whenever you like.
*Limited space is available for the bonus live workshop.